Production
Edit
PDM introduces new goods, so that means new ways to produce them, to use them or different ways to produce existing goods. In bold are the new Goods, RGOs, Artisans and Factories introduced by PDM.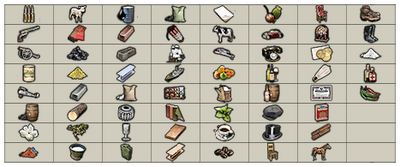 Base Cost: Cost listed in common/goods.txt.
Base Population: Number of people needed to produce one unit of the good at base production values.
| Name | Base Cost | Base Population |
| --- | --- | --- |
| Aeroplanes | 90.0 | |
| Ammunition | 4.0 | |
| Artillery | 30.0 | |
| Automobiles | 20.0 | |
| Barrels | 60.0 | |
| Boots | 14.0 | |
| Bronze | 6.0 | |
| Canned Food | 6.0 | |
| Cattle | 4.0 | |
| Cement | 8.0 | |
| Cigarettes | 5.0 | |
| Cigars | 14.0 | |
| Clipper Convoy | 55.0 | |
| Coal | 4.6 | |
| Coffee | 9.0 | |
| Copper | 5.2 | |
| Cotton | 4.0 | |
| Dye | 8.0 | |
| Electric Gear | 10.0 | |
| Electric Power | 4.0 | |
| Explosives | 14.0 | |
| Fabric | 7.0 | |
| Fertilizer | 7.0 | |
| Financial Services | 14.0 | |
| Fish | 4.0 | |
| Fruit | 4.0 | |
| Fuel | 8.0 | |
| Furniture | 17.0 | |
| Glass | 7.0 | |
| Grain | 3.0 | |
| Gunpowder | 4.0 | |
| Horses | 8.0 | |
| Iron | 6.6 | |
| Lead | 4.6 | |
| Liquor | 8.0 | |
| Lumber | 4.2 | |
| Luxury Clothes | 80.0 | |
| Luxury Furniture | 90.0 | |
| Machine Parts | 20.0 | |
| Oil | 4.0 | |
| Opium | 16.0 | |
| Paper | 5.6 | |
| Pharmaceuticals | 10.0 | |
| Precious Metal | 30.0 | |
| Print | 3.0 | |
| Radio | 14.0 | |
| Regular Clothes | 14.0 | |
| Rubber | 4.0 | |
| Shares | 3.0 | |
| Shoes | 6.0 | |
| Silk | 10.0 | |
| Small Arms | 16.0 | |
| Spices | 16.0 | |
| Steamer Convoy | 120.0 | |
| Steel | 8.0 | |
| Sugar | 3.0 | |
| Sulphur | 7.0 | |
| Tea | 5.0 | |
| Telephones | 11.0 | |
| Timber | 3.6 | |
| Tobacco | 7.0 | |
| Tropical Wood | 10.0 | |
| Wine | 14.0 | |
| Wool | 4.0 | |
Facilities
Edit
RGO production is calculated as follows:
Production = Base Production * Throughput * Output Efficiency
Base Production = Provice Size * RGO Efficiency Techs * Output Amount in table below
Throughput = (Number of workers / Max Workers) + RGO Throughput Efficiency Techs + Province Infrastructure
Max Workers = 40000 * Provice Size * Terrain * RGO Efficiency Techs (Max Workers cannot be less than 40000)
Output Efficiency = 1.0 + Aristocrat % in State + RGO Output Efficiency Techs
| Name | Output Goods | Output Amount |
| --- | --- | --- |
| Cattle Ranch | Cattle | 10 |
| Coal Mine | Coal | 12 |
| Copper Mine | Copper | 10 |
| Coffee Plantation | Coffee | 10 |
| Cotton Plantation | Cotton | 10 |
| Dye Plantation | Dye | 4 |
| Fishing Wharf | Fish | 10 |
| Grain Farm | Grain | 10 |
| Iron Mine | Iron | 10 |
| Lead Mine | Lead | 20 |
| Oil Rig | Oil | 20 |
| Opium Plantation | Opium | 6 |
| Orchard | Fruit | 10 |
| Precious Metal Mine | Precious Metal | 10 |
| Rubber Lodge | Rubber | 15 |
| Sheep Ranch | Wool | 12 |
| Silkworm Ranch | Silk | 4 |
| Spice Plantation | Spices | 10 |
| Sulphur Mine | Sulphur | 25 |
| Tea Plantation | Tea | 8 |
| Timber Lodge | Timber | 18 |
| Tobacco Plantation | Tobacco | 25 |
| Tropical Wood Lodge | Tropical Wood | 10 |
Name
Input Goods
Output Goods
Output Amount
Net Cost/Profit
Artisan Ammunition
Gunpowder: 30
Lead: 100
Ammunition
170
Artisan Artillery
Steel: 30
Ammunition: 10
Artillery
14
Artisan Shoe Maker
Cattle: 60
Iron: 20
Boots
30
Artisan Bronze Worker
Coal: 5
Copper: 28
Bronze
38.5
Artisan Canned Food
Bronze: 10
Cattle: 100
Canned Food
100
Artisan Baker
Grain: 100
Canned Food
70
Artisan Costermonger
Bronze: 10
Fruit: 100
Canned Food
100
Artisan Fishmonger
Bronze: 10
Fish: 100
Canned Food
100
Artisan Cowboy
Grain: 40
Horses: 5
Cattle
55
Artisan Cement
Coal: 50
Cement
32
Artisan Cigarettes
Tobacco: 80
Cigarettes
120
Artisan Cigars
Tobacco: 80
Cigars
80
Artisan Clipper
Lumber: 55
Fabric: 55
Steel: 55
Lead: 55
Clipper Convoy
25
Artisan Charcoaler
Timber: 40
Coal
35
Artisan Fruit Dye
Fruit: 30
Dye
20
Artisan Purple Dye
Fish: 30
Dye
20
Artisan Electric Gear
Rubber: 15
Copper: 10
Electric Gear
15
Artisan Explosives
Gunpowder: 50
Steel: 40
Explosives
44
Artisan Fabric
Cotton: 60
Fabric
44
Artisan Weaver
Wool: 60
Fabric
44
Artisan Fertilizer
Sulphur: 50
Fertilizer
60
Artisan Fruit Farmer
Fertilizer: 20
Fruit
50
Artisan Furniture
Lumber: 50
Steel: 25
Furniture
35
Artisan Glass
Coal: 35
Lead: 30
Glass
55
Artisan Grain Farmer
Fertilizer: 20
Grain
66
Artisan Powderer
Coal: 15
Sulphur: 10
Gunpowder
50
Artisan Horse Breeder
Fruit: 50
Grain: 100
Iron: 20
Horses
100
Artisan Liquor
Glass: 10
Grain: 100
Liquor
55
Artisan Moonshiner
Glass: 10
Sugar: 70
Liquor
44
Artisan Lumber
Timber: 200
Lumber
190
Artisan Tropical Lumber
Tropical Wood: 25
Lumber
75
Artisan Luxury Clothes
Regular Clothes: 1
Silk: 10
Luxury Clothes
1.6
Artisan Luxury Furniture
Tropical Wood: 10
Furniture: 1
Luxury Furniture
1.5
Artisan Machine Parts
Steel: 25
Coal: 30
Machine Parts
20
Artisan Paper
Lumber: 60
Paper
75
Artisan Chemist
Glass: 15
Opium: 10
Pharmaceuticals
33
Artisan Newspaper
Paper: 30
Print
60
Artisan Radio
Rubber: 5
Glass: 5
Electric Gear: 6
Copper: 5
Radio
15
Artisan Regular Clothes
Dye: 15
Fabric: 45
Regular Clothes
45
Artisan Cobbler
Cattle: 60
Iron: 20
Shoes
70
Artisan Small Arms
Bronze: 60
Small Arms
33
Artisan Steel
Coal: 30
Iron: 35
Steel
50
31
Artisan Tea
Fertilizer: 20
Tea
30
Artisan Telephone
Glass: 5
Electric Gear: 5
Copper: 5
Telephones
15
84
Artisan Tree Surgeon
Fertilizer: 20
Timber
55
Artisan Winery
Glass: 15
Fruit: 80
Wine
37
93
Artisan Shepherd
Grain: 45
Wool
50
Factories
Edit
Factory production is calculated as follows:
Production = Factory Size * Base Production * Throughput * Output Efficiency
Base Production = Output Amount in table below (production_types.txt)
Throughput = Number of Craftsmen / (Factory Size * 10000) + Factory Throughput Techs + Infrastructure (state average)
Output Efficiency = 1.0 + Number of Clerks / (Factory Size * 10000) + Factory Efficiency Techs + Economic Policy Modifier
Name
Input Goods
Amount
Base Price
Total Base Price
Output Goods
Amount
Base Price
Net Cost/Profit
Aeroplane Factory
Rubber
50
200
900
Aeroplanes
12
1080
180
Machine Parts
20
400
Electric Gear
30
300
Ammunition Factory
Gunpowder
30
120
285
Ammunition
75
300
15
Iron
25
165
Bronze Artillery Factory
Bronze
20
120
160
Artillery
10
300
140
Gunpowder
10
40
Iron Artillery Factory
Iron
10
66
206
Artillery
20
600
394
Explosives
10
140
Artillery Factory
Steel
20
80
320
Artillery
20
600
280
Explosives
10
140
Machine Parts
5
100
Automobile Factory
Rubber
10
80
460
Automobiles
35
700
240
Machine Parts
10
200
Electric Gear
10
100
Steel
10
80
Barrel Factory
Automobiles
10
20
340
Barrels
12
720
380
Electric Gear
10
10
Rubber
10
4
Boot Factory
Cattle
40
160
320
Boots
40
560
240
Steel
20
160
Rubber Boot Factory
Rubber
80
320
320
Boots
40
560
240
Bronze Factory
Coal
5
23
179
Bronze
50
300
121
Copper
30
156
Canned Food Factory
Bronze
10
60
460
Canned Food
100
600
140
Cattle
100
400
Bakery
Grain
125
375
375
Canned Food
80
480
105
Fish Cannery
Bronze
10
60
460
Canned Food
100
600
140
Fish
100
400
Fruit Cannery
Bronze
10
60
460
Canned Food
100
600
140
Fruit
100
400
Cement Factory
Coal
100
460
460
Cement
100
800
340
Cigarette Factory
Paper
10
56
406
Cigarettes
120
600
194
Tobacco
50
350
Cigar Factory
Tobacco
60
620
620
Cigars
60
840
220
Clipper Shipyard
Fabric
50
350
1190
Clipper Convoy
25
1375
185
Lead
50
230
Lumber
50
210
Steel
50
400
Dye Factory
Coal
100
460
460
Dye
70
560
100
Electric Gear Factory
Copper
20
104
224
Electric Gear
30
300
76
Rubber
30
120
Coal-Fired Power Plant
Coal
150
690
690
Electric Power
250
1000
310
Petroleum-Based Power Plant
Fuel
100
800
800
Electric Power
300
1200
400
Explosives Factory
Gunpowder
100
400
400
Explosives
40
560
160
Fabric Factory
Cotton
60
240
240
Fabric
50
350
110
Wool Mill
Wool
60
240
240
Fabric
50
350
110
Fertilizer Factory
Sulphur
50
350
350
Fertilizer
75
525
175
Bank
Paper
20
112
112
Financial Services
10
140
28
Fuel Refinery
Oil
20
80
80
Fuel
20
160
80
Furniture Factory
Lumber
50
210
450
Furniture
40
680
230
Steel
30
240
Glass Factory
Coal
30
138
276
Glass
50
350
74
Lead
30
138
Gunpowder Factory
Coal
15
69
139
Gunpowder
50
200
61
Sulphur
10
70
Stables
Fruit
50
200
1032
Horses
100
800
-232
Grain
100
700
Iron
20
132
Liquor Distillery
Glass
10
70
370
Liquor
50
400
30
Grain
100
300
Rum Distillery
Glass
10
70
250
Liquor
40
320
70
Sugar
60
180
Lumber Mill
Timber
200
720
720
Lumber
200
840
120
Luxury Clothes Factory
Regular Clothes
1
14
114
Luxury Clothes
1.6
128
14
Silk
10
100
Advanced Luxury Clothes Factory
Cotton
4
16
116
Luxury Clothes
3.2
256
140
Silk
10
100
Luxury Furniture Factory
Furniture
1
17
117
Luxury Furniture
1.5
135
18
Tropical Wood
10
100
Advanced Luxury Furniture Factory
Lumber
5
21
121
Luxury Furniture
3
170
49
Tropical Wood
10
100
Machine Parts Factory
Bronze
25
150
288
Machine Parts
20
400
112
Coal
30
138
Advanced Machine Parts Factory
Coal
40
184
824
Machine Parts
60
1200
376
Rubber
60
240
Steel
50
400
Synthetic Oil Factory
Coal
24
110.4
110.4
Oil
40
160
49.6
Paper Mill
Timber
40
144
144
Paper
40
224
80
Pharmaceutical Plant
Glass
15
105
265
Pharmaceuticals
35
350
85
Opium
10
160
Newspaper
Paper
30
168
168
Print
60
180
12
Radio Factory
Copper
10
52
212
Radio
30
420
208
Electric Gear
12
120
Rubber
10
40
Regular Clothes Factory
Dye
15
120
820
Regular Clothes
75
1000
180
Fabric
100
700
Synthetic Rubber Factory
Oil
30
120
120
Rubber
50
200
80
Stock Exchange
Paper
30
168
168
Shares
60
180
12
Shoe Factory
Bronze
8
48
208
Shoes
50
300
92
Cattle
40
160
Synthetic Silk Factory
Oil
60
240
240
Silk
30
300
60
Early Small Arms Factory
Bronze
50
300
300
Small Arms
20
320
20
Small Arms Factory
Iron
35
231
231
Small Arms
15
240
9
Late Small Arms Factory
Steel
50
400
400
Small Arms
30
480
80
Steamer Shipyard
Coal
50
230
1210
Steamer Convoy
15
1800
590
Machine Parts
25
500
Steel
60
480
Steel Factory
Coal
45
207
504
Steel
75
600
96
Iron
45
297
Sugar Beet Refinery
Fruit
30
120
120
Sugar
50
150
30
Telephone Factory
Copper
10
52
152
Telephones
20
220
68
Electric Gear
10
100
Winery
Fruit
100
400
470
Wine
40
560
90
Glass
10
70